Turnout on plastic sleepers is being delivered to Düsseldorf
20/10/2021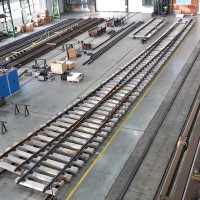 On October 19, 2021, the customer came to DT for acceptance of the turnout No. 219, geometry 49E11: 9-300 for the Husbertushain project of the Rheinbahn, Düsseldorf. The order was interesting in that it was equipped with plastic sleepers from the Pioonier company.

The turnout, completely assembled and tested, was manufactured according to the technical specifications of Rheinbahn and to the drawing confirmed by Rheinbahn.

The customer was very satisfied and we will deliver the turnout to Düsseldorf at the end of October!