We developed new fastening system for turnouts!
09/09/2021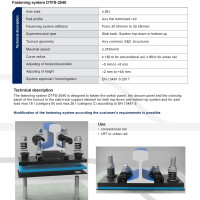 In 2020 and 202, the fastening system DTFS-2540 developed in DT was succesfully tested in certified laboratories.
This fastening system is designed to fasten the switch panel, the closure panel and the crossing panel of the turnout to the slab track support element for both top-down and bottom-up system and for axle load max 18 t (category B) and max 26 t (category C) according to EN 13481-5.